Stages of Engaging - Engagement
Jump to navigation
Jump to search
The Engagement Stage involves consideration of the maturity of the relationship type and the outcomes sought by both parties. Deciding whether you are merely creating a creator/supplier agreement to enhance and existing product; or offering a new product into the corporate range of offerings; or jumping the curve and delivering a truly innovative new model will require different approaches.
What Does Success Look Like?
For Founders and Startups
Acquisition/exit 100%
Partial exit
Revenue share
Social impact
Environmental wins
Grow faster
Speed to market
For Corporates
Increased revenue
Diversification
Increase capital valuation
Grow customer base
Add capability
Culture change
Social licence
ENGAGEMENT MODEL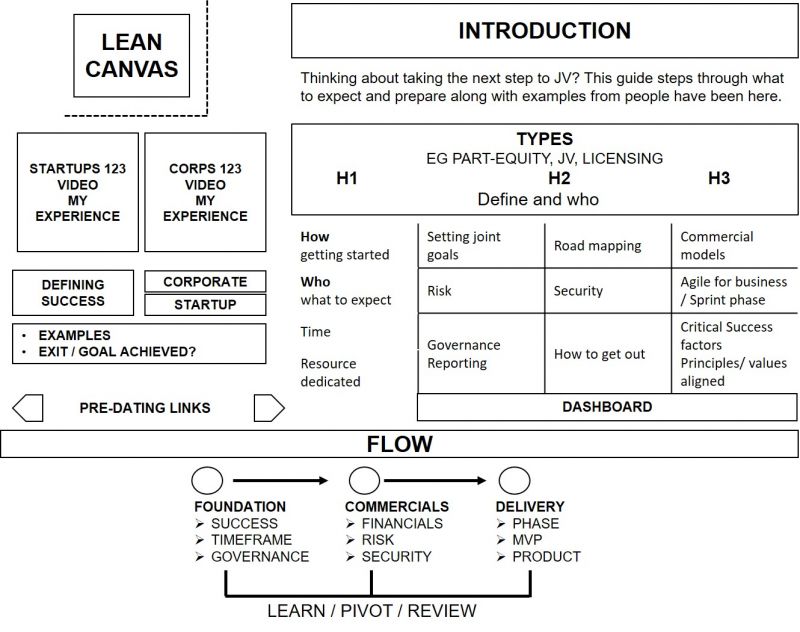 FACILITATOR COMMENTARY The importance of the Scouting and Dating Stages become evident here. By this stage, both parties should be aligned, have clear expectations of what is partnership will deliver and know which horizon level they are chasing. Using a lean startup approach to the project also enables the learn, validate, pivot and review cycle of the engagement sprint to operate at speed.